Mountain team rescues drivers stranded in snow near Durisdeer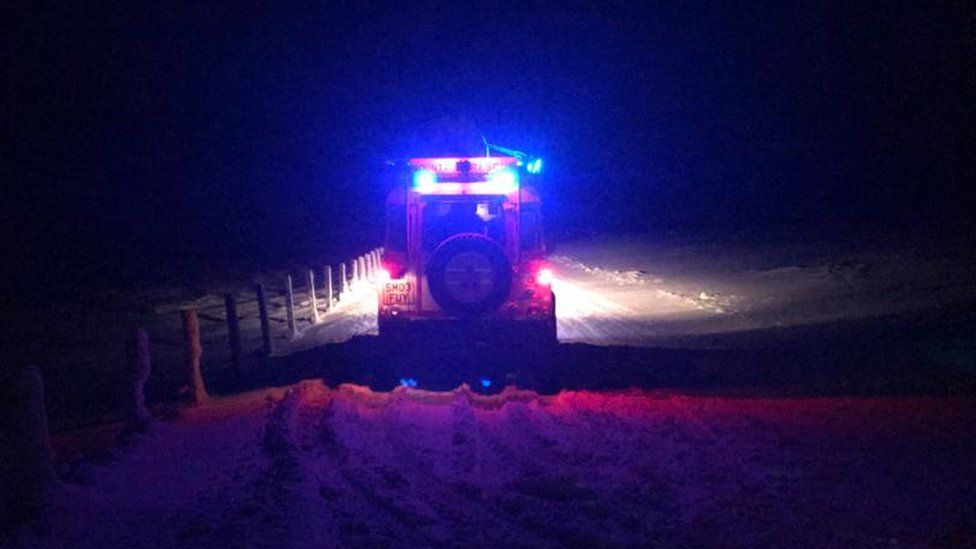 A mountain rescue team battled through the snow to assist drivers stranded in severe conditions in southern Scotland.
Vehicles became stuck on the A702 at the Dalveen Pass near Durisdeer in Dumfries and Galloway on Tuesday night.
A string of Met Office weather warnings remain in place across Scotland for the days ahead.
The rescue operation came after an amber alert was issued for much of Dumfries and Galloway and the Scottish Borders on Tuesday.
A yellow warning for snow and ice was in place across most of Scotland until 12:00 on Wednesday.
Further alerts issued are:
a yellow warning for snow in southern Scotland from 02:00 to 11:00 on Thursday
an alert for rain - also in the south - from 09:00 to 17:00 on Friday
a yellow warning for rain and wind for central and southern Scotland from 09:00 to 18:00 on Saturday
a further wind warning for all of Scotland from 12:00 on Sunday to 12:00 on Monday
As well as the incident in Dumfries and Galloway, Tweed Valley Mountain Rescue Team was also called out in the Borders.
It came at about 15:00 on Tuesday to help the occupants of a vehicle which had slipped off the road in a "remote location" in the region.
The operation took about four hours to complete in blizzard conditions which team members described as "some of the harshest" they had ever worked in.
Disruption continued on Wednesday after the amber alert the day before.
In Dumfries and Galloway, three schools have been been closed in Sanquhar, Kelloholm and Hottsbridge.
Police also reported a number of crashes across the region with many routes affected by ice.
Drivers have been asked to "slow down and drive accordingly".
In the Highlands, Kinlochbervie High School, six primary schools and three nurseries have been closed due to the weather. The closures affect more than 180 children.
Deep snow drifts had to be cleared from the West Highland Line on Wednesday morning.
A Network Rail Scotland crew spent about 20 minutes clearing the line at Corrour, the highest mainline railway station in the UK and famous for its appearance in the 1996 film Trainspotting.
Preparing for severe weather:
Related Internet Links
The BBC is not responsible for the content of external sites.