Jean Hanlon death: Family launch information appeal in Crete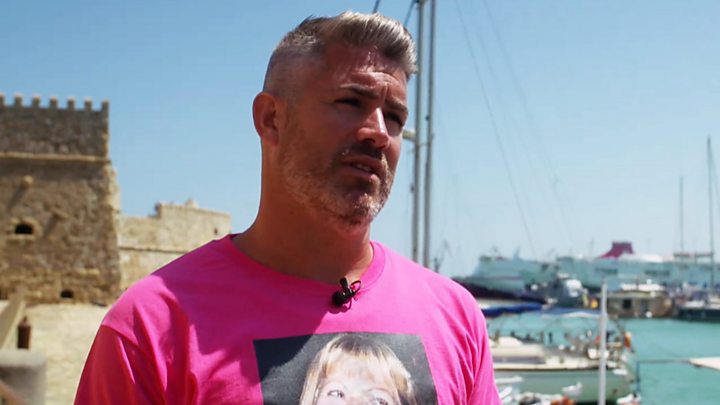 The family of a Dumfries woman found dead in Crete 10 years ago have launched a new appeal for information on the island.
The Greek authorities have re-opened the inquiry into the death of Jean Hanlon, 53, following a TV documentary.
A post-mortem examination concluded she drowned but information later suggested injuries consistent with a struggle.
Her son, Michael Porter, said he was "extremely confident" someone had more details about her death.
At the time she died the mother-of-three had been living in Crete for several years, working in bars and tavernas.
Her body was recovered from the sea off the Mediterranean island on 13 March, 2009, four days after she disappeared.
Mr Porter said a new witness had come forward since the recent screening of a Channel 5 documentary entitled "Murdered in Paradise: The Killing of Jean Hanlon".
He said he was convinced more information could be uncovered.
"I'm extremely confident that someone out there knows something," he said.
"Someone knows what happened that night.
"Whether it was accidental or intentional someone put our mum's body in the water and they know what happened."
Ms Hanlon's grand-daughter, Rebecca Porter, said visiting the island had been an emotional experience.
"It has been up and down," she said.
"One minute I am absolutely fine, finding comfort in gran being here - the next thing absolutely upset and the grieving just hits you.
"It comes in waves but as soon as I landed just finding comfort - I see why gran loved this island so much."
Anyone who knows anything about Ms Hanlon has been urged to come forward with "even the most insignificant detail" about the case.
Mr Porter said they believed that on the night of her death their mother was with a man who has still not been traced.
He explained: "We know she was apparently with someone here in the port of Heraklion because she spoke to a friend, messaging help and later on trying to phone her friend, and her friend didn't answer - so we knew there are a lot of suspicions because this man has still not been found or come forward to this day,
"We are asking the public and anybody here in Crete, do you remember this woman, were you with her, did you see who she was with that night? No matter how small and insignificant you think that may be, please come forward."