Anger over Electric Fields move from Drumlanrig to Glasgow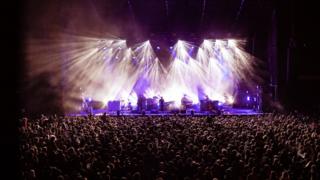 The Electric Fields music festival has been moved from southern Scotland to a new venue in Glasgow.
The event has taken place at Drumlanrig Castle near Thornhill, in Dumfries and Galloway, for the last five years.
Organisers blamed the rising costs of outdoor festivals for the decision to relocate the event to the SWG3 complex in Finnieston.
But the move has been met with anger on social media, with some ticket-holders demanding full refunds.
In a statement posted online, Electric Fields also blamed "ongoing logistical and transport challenges" for the decision.
They added that they had contacted all those who had already bought tickets for the festival, which takes place between 4 and 6 July.
Ticket holders have been told they will receive partial refunds for their three-day weekend passes, which reflect the savings made by the relocation.
'Full festival experience'
Full refunds will be given for passes for camper vans, car parking, posh loos and showers.
In an email to people who have bought tickets, the team behind the festival said the alternative event would be "truly excellent".
They added: "We fully realise some of you will be disappointed with this news and hope that you can appreciate this decision was not made lightly.
"When faced with the proposition of cancellation we were determined to find a suitable alternative that would keep the festival alive for everyone to enjoy.
"Since 2014 our ambition has been to put on an exciting and fresh festival in a region we love, but sadly this year it was not meant to be."
Corinne Wallis, from Hull, planned to return to Electric Fields after having an "amazing time" at last year's event.
She paid £320 for weekend tickets for two people, which included access to posh loos and car-parking for two cars.
She told the BBC Scotland website that the decision to move the festival to Glasgow means she would have to pay extra for the cost of three nights' accommodation.
"We were looking forward to the camping and full festival experience, not a gig where you probably can't get pass outs and pay £6 a pint".
'Great atmosphere'
Alasdair Skeoch, from Prestwick, said he had also asked for a full refund as the event was "fundamentally different" to what he initially purchased.
He said he started going to Electric Fields after The Wickerman Festival ended.
"It was the right size, with a great atmosphere and excellent food and drink," he said.
"It will be missed, but the organisers risk tarnishing their reputation by not doing what is right, and providing refunds when requested."
Metronomy, The Vaccines, Sleaford Mods and Frank Turner are among the acts due to take part in this year's event.
Scottish DJ Jim Gellatly said the move away from Drumlanrig was "devastating news" for the music scene in Dumfries and Galloway.
"SWG3 is a fantastic facility but it's not the same as going to a field by the magnificent Drumlanrig Castle and seeing live music in an outdoor festival environment," he said.
"I feel sorry for the people of Dumfries. Hopefully they'll get up to Glasgow for the festival but it does seem like it's being ripped away from the local community but I'm sure they had no option but to move it."
Local band Kasama, who are booked to appear at the festival, said they were "gutted" but supported the decision of the organisers.
In a post on Facebook, they said: "SWG3 is a unique venue that we may never have got the chance to play at otherwise so we, along with the rest of the brilliant D&G artists would really appreciate it if you could get behind us and the festival organisers to make it a weekend to remember."
It was estimated that last year's festival generated £1.5m for the local economy in southern Scotland.
More than 8,000 watched the Friday night headliner - Noel Gallagher's High Flying Birds - in a new attendance record for the festival.
Anna Fergusson, of Drumlanrig Castle, said they hoped to see Electric Fields return to Dumfries and Galloway.
"The organisers have arranged a terrific event for many years and we hope that their success will continue and one day it might return to the region," she said.
Adam Wilson, Dumfries and Galloway Council's events champion, said the move illustrated the challenges faced by major events and festivals in the region.
He added that the move would be an economic blow to the region.