More than 200 sheep dead in HGV crash near Enterkinfoot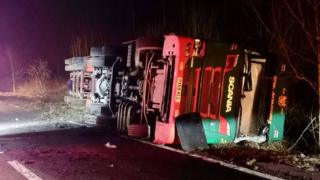 More than 200 sheep have died after the lorry they were being transported in overturned in the south of Scotland.
Police said 440 sheep were being transported to the Birmingham area when the crash happened on the A76, between Sanquhar and Thornhill.
In total about half of the animals died in the collision or subsequently had to be put down by vets.
The driver of the HGV - a 27-year-old man from Carlisle - suffered minor injuries.
Police said they were called to the collision near Enterkinfoot at about 22:50 on Monday.
The road was shut overnight but reopened at 05:30. Police have appealed for witnesses.
Due to the nature of the incident Police Scotland, the Scottish Environment Protection Agency, Scottish Fire and Rescue Service, Scottish Ambulance Service and local farmers and vets were all involved in dealing with it.