Mainetti job cuts in Jedburgh 'a big blow'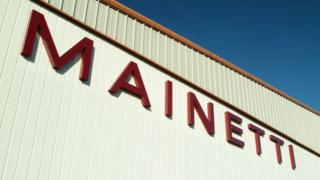 About 50 jobs could be lost in the Borders due to a restructuring programme at a coat hanger company.
Mainetti - which employs more than 350 staff in Jedburgh - hopes to achieve the reduction via voluntary redundancies.
The company said the last two years had been "difficult for the business" with losses reported.
MP John Lamont described it as "disappointing news" at a "long-standing employer" in the town.
Regional managing director Jim Hutchison said that Mainetti UK had made a £561,000 loss in 2017 and was forecast to make a loss again this year.
He said the business needed to "rebalance its output to match the current demand".
The company hopes to achieve the reduction of posts by voluntary redundancy but added that it was "likely" some compulsory redundancies would be required.
Jobs hanging in the balance
By Giancarlo Rinaldi, BBC News south of Scotland reporter
Mainetti is a world leader in coat hanger manufacturing - making millions of them in Jedburgh every year - but it says demand in the UK is falling.
Retailers are either closing shops or reducing selling space while there is also an "increased emphasis" on recycling.
The company said it had moved some work from Morocco to Jedburgh this year but, despite that switch, production had fallen by 15% over a two-year period - from 106 million to 90 million.
It has promised to invest in other parts of the business in the Borders - such as flower buckets, polythene bags and its pull-along seat and luggage case for children - to try to boost those areas.
However, in the meantime it will be cutting jobs in hanger manufacturing while selling off excess machinery to other Mainetti group companies.
Mr Hutchison said: "The directors are aware that this announcement comes at a difficult time of year, but felt it was better to announce this now so staff knew what was being proposed so they could plan ahead accordingly."
Mr Lamont said he understood the reasons behind the move but voiced his disappointment - particularly at the timing of the announcement.
"Clearly their market is changing and Mainetti are having to adapt to that," he said.
"People are recycling hangers more and buying clothes online, meaning demand is falling.
"Even with these changes, more than 300 good jobs will still be based in Jedburgh, but it is nevertheless a big blow to be losing 50 in the town, particularly as the news has come so close to Christmas."