Dumfries flood scheme inquiry decision still months away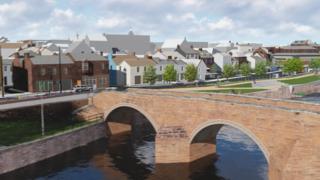 A decision on the fate of a flood protection scheme in Dumfries is still some months away.
Four weeks of evidence heard at a public inquiry into the Whitesands project have now concluded.
However, written submissions and a council response will not be complete until the end of January.
The inquiry heard it would take at least two months for a report to be completed and then "months rather than weeks" for a final decision.
The hearing in Dumfries has heard evidence both for and against the scheme which would create a "raised walkway".
The area has suffered regularly with flooding over the years but opinion remains divided on the best way to address the situation.
Analysis
By Giancarlo Rinaldi, BBC News south of Scotland reporter
Anyone hoping for a speedy decision on the multi-million-pound proposals will be sorely disappointed.
After four weeks of evidence, there is still much for Scottish government reporters to digest.
The Christmas period means written submissions and responses will still require the best part of two months.
It will then take another couple of months or more for those findings to be digested before Scottish ministers can deliver a decision.
That makes next summer look about the earliest this long-running saga will be resolved.
Dumfries and Galloway Council believes the project could provide protection and also help with regeneration of the area next to the River Nith.
However, opponents say it will have an adverse impact on tourism and a detrimental effect on riverside views.
The inquiry has heard from both sides and a string of experts as well as carrying out site visits.
It will ultimately decide whether to take the scheme forward, modify it or abandon it entirely.
A 28 January deadline has been set for the council response to any closing submissions from opponents.
The inquiry heard it would then take at least two months or "possibly more" for reporters to compile their findings.
The findings will then be submitted to Scottish government ministers to decide the outcome.