Concerns over maternity services switch from Stranraer to Dumfries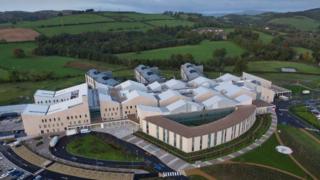 MSPs have raised concerns about a 70-mile switch in maternity services for pregnant women in south west Scotland.
Staff shortages mean a birthing centre at the Galloway Community Hospital in Stranraer is currently unable to carry out deliveries.
It means a lengthy journey to the new Dumfries Infirmary instead.
Galloway and West Dumfries MSP Finlay Carson and South of Scotland MSP Colin Smyth have highlighted the problems, especially in winter travel conditions.
"While I am acutely aware of the staffing challenges facing our NHS locally, I am concerned and disappointed that it has resulted in the birthing centre in Stranraer now being unavailable to mothers," said Mr Carson.
"Giving birth close to home is something mothers are always keen to do.
"I would encourage the health board to continue to explore all options to make the Clenoch birthing centre available again as soon as possible."
He said the last thing expectant mothers needed was a lengthy trip along the route in "potentially bad weather".
Mr Smyth said it showed the recruitment situation had reached "crisis point".
He said peripheral communities outside the central belt faced the "biggest challenges" and called for "urgent steps" to be taken.
'Number one priority'
NHS Dumfries and Galloway's general manager of women, children's and sexual health services Linda Williamson said recruitment challenges had affected maternity services in recent months particularly in the west of the region.
"Ultimately, our number one priority is the safety of expectant mothers and staff," she said.
The health board said all expectant mothers had been made aware of the situation and, while some had "expressed disappointment", they "appreciated and understood" the situation.
It added that the numbers using the birthing centre in Stranraer had fallen from 78 in 2011 to 17 last year despite the birth rate in the area remaining steady.
It said the unit remained open for scheduled pre-natal and post-natal care.
In the meantime, a statement added that efforts continued to fill the "well-advertised vacancies" in midwifery.