Next's Dumfries store appeal rejected again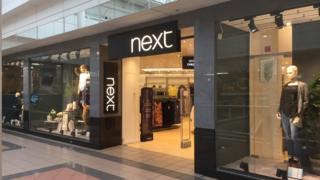 An appeal which could have let retail giant Next return to a town it left earlier this year has been rejected.
The Court of Session quashed the original refusal by the Scottish government's planning and environmental appeals division (DPEA).
It meant the DPEA had to look again at the firm's bid to have a condition lifted on an out-of-town unit at the Cuckoo Bridge retail park in Dumfries.
However, it has now confirmed its rejection of the application.
Next left its Dumfries town centre store in the Loreburne Centre in February this year following the original refusal.
It argued turnover had fallen significantly and the unit no longer suited its business model.
Dumfries and Galloway Council rejected the proposals to lift a planning condition and the DPEA backed that stance.
The lengthy wrangle took another twist this summer when the DPEA's decision was quashed forcing it to examine the case again.
It has now concluded - after taking into account additional or updated evidence - that the appeal should be rejected once more.
A reporter found that the benefits to the town from the major retailer would not outweigh the proposal's failure to comply with the local development plan.
He added that the proposed Next store could be accommodated in a "suitable and available" town centre location which would fit with the "town centres first approach" required by Scottish planning policy.
A spokeswoman for the company said it was disappointed by the decision.
"Next were proposing a new format store with an extended product range to an accessible location on the Cuckoo Bridge Retail Park - a move which was supported by a petition of over 2,000 local customers and a response of over 2,900 'likes' to our Facebook campaign," she said.
"The new store would have employed 55 staff in Dumfries.
"Next are very disappointed with the rejection of the planning application by both local councillors and now the government planning inspector."
The company has also confirmed it does not intend to reopen on a town centre site.