Jim Clark Rally could be set for return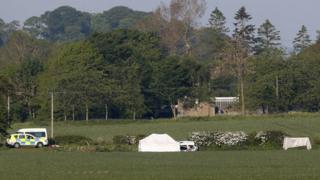 The Jim Clark Rally could return "in the very near future", according to motorsports championship organisers.
The event in the Borders has not taken place in recent years after three people were killed at the 2014 edition.
The Scottish government is now proposing a two-stage process to allow motorsports events to be held on closed public roads.
British Rally UK manager Ian Campbell said "an awful lot of work" had gone into getting to this stage.
Iain Provan, 64, Elizabeth Allan, 63, and Len Stern, 71, died at the Jim Clark Rally four years ago after being struck by a car that had lost control.
The rally has not been held on its traditional route since.
'Proud tradition'
A fatal accident inquiry delivered its findings into the incident last year and now the Scottish government is looking at ways which could allow the event's revival along with the Isle of Mull Rally.
It said it recognised the need to balance economic benefit and public enjoyment with safety.
Transport Secretary Michael Matheson said Scotland had a "long and proud tradition" in the world of motorsports.
However, he added that the dangers and risks also needed to be "correctly assessed and managed".
The proposals would see a two-stage process introduced with motorsports governing bodies given the power to issue permits for events to be held on closed public roads.
That would allow event organisers to approach the relevant local authority to seek a motorsports event order in the second stage of the procedures.
'Fantastic opportunity'
Mr Campbell told BBC Radio Scotland's Good Morning Scotland programme that rallying made an "enormous" contribution to the economy.
He said the loss of the Isle of Mull Rally had been "felt by everybody on the island".
He added that safety recommendations for the sport following the fatal accidents had all been implemented.
"We can see that over the last five years that procedures and implementation and experience have all increased," he said.
Mr Campbell described the proposed legislation as a "fantastic opportunity" for the sport and the communities involved.
Consultation on the proposals runs until 28 January.
Organisers of the Jim Clark Rally have urged the motorsports community to give their feedback on the plans.
They said it could allow the revival of their event and possibly see new rallies established across Scotland.