Spark Energy Supply customers will switch to Ovo Energy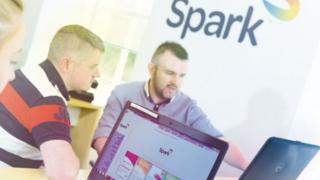 A company has been appointed to take on the 290,000 customers of an energy supply firm which has ceased trading.
Regulator Ofgem has approved Ovo Energy's takeover of Selkirk-based Spark Energy Supply Ltd.
Ovo has also acquired Spark's operating company - with more than 300 staff - and will retain the Spark Energy brand.
Ofgem executive director Mary Starks said she was pleased with the deal and stressed that customers would stay on the same tariffs.
"Their credit balances will be honoured and their energy supply will continue as normal," she said.
"Ovo Energy, under the Spark Energy brand, will be in contact with customers over the coming days with further information.
"Once the transfer has been completed, customers can shop around for a better deal if they wish to."
Ovo said it planned to retain Spark Energy's operations and teams in Selkirk, Edinburgh and Horsham.
Founder Stephen Fitzpatrick said: "The energy sector is going through a major change and many companies, big and small, are struggling to adapt.
"We are are delighted to have been able to bring Spark into the Ovo Energy Group, securing a good outcome for their customers and the team.
"We will combine Ovo's innovative technology and focus on customer experience with Spark's unique network of partnerships to bring greater products and services to more households around the UK."
'Great news'
Spark Chief Executive Chris Gauld said it was "great news".
"It means Spark becomes part of a very successful large independent energy supplier," he said.
"We will service our customers, under Ovo's licence, from our existing offices, and continue to grow our niche model of partnering with leading letting and estate agent companies.
"I'm delighted that we can continue to grow as part of the Ovo family with a renewed confidence in the future despite the challenges the sector is facing."
'Working tirelessly'
Rural Economy Secretary Fergus Ewing said his priority was to "do everything possible" to retain the jobs involved.
"The significance of the Spark workforce to the Selkirk and wider Borders area is huge," he said.
"That is why the Scottish government has been working tirelessly with Spark Energy and others in recent weeks to try to find the best resolution possible, during a period of great worry and uncertainty for those workers and their families.
"I am hopeful that this outcome will mean the retention of the vast majority of the jobs.
"I will continue to do all I can to safeguard those jobs and will be looking to engage with Ovo Energy at the earliest opportunity."