Family told of relative's death in Dumfries hospital corridor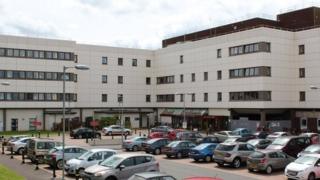 A health board has apologised after a family was told of their relative's death in a hospital corridor.
The Scottish Public Services Ombudsman investigated the case involving NHS Dumfries and Galloway.
It was found to have failed to provide reasonable care and treatment to the man who died of an aneurysm shortly after being admitted to hospital.
A complaint that the board did not communicate reasonably with his family was also upheld.
The patient's daughter, referred to in the report at Mrs C - was unhappy at the treatment her father - referred to as Mr A - received from NHS Dumfries and Galloway.
Cause of death
He arrived at Dumfries Infirmary late on 2 December 2017 and early the following morning was admitted to the clinical assessment unit where he had a cardiac arrest and died.
The cause of death was found to be an aneurysm.
His daughter complained his symptoms had not been investigated appropriately in accident and emergency and also questioned record-keeping regarding his care and treatment.
An investigation found the initial examination was reasonable but a scan which might have led to an earlier diagnosis had not been carried out.
'Not appropriate'
It upheld the complaint that the board had failed to provide reasonable care and treatment.
The inquiry also found that Mr A's family were not kept updated about his deteriorating condition and were informed of his death while in a corridor.
The board accepted this was "not appropriate" and apologised and discussed the issue with staff.
NHS Dumfries and Galloway also apologised for miscommunication about the time of Mr A's death and for the distress this caused.
It said the importance of clear communication had been discussed with the nursing team.
NHS Dumfries and Galloway said it accepted the findings and recommendations of the SPSO.
It said it was undertaking "a number of actions" in response to the report, including issuing an apology to Mrs C and her family.