Whitesands flood scheme public inquiry begins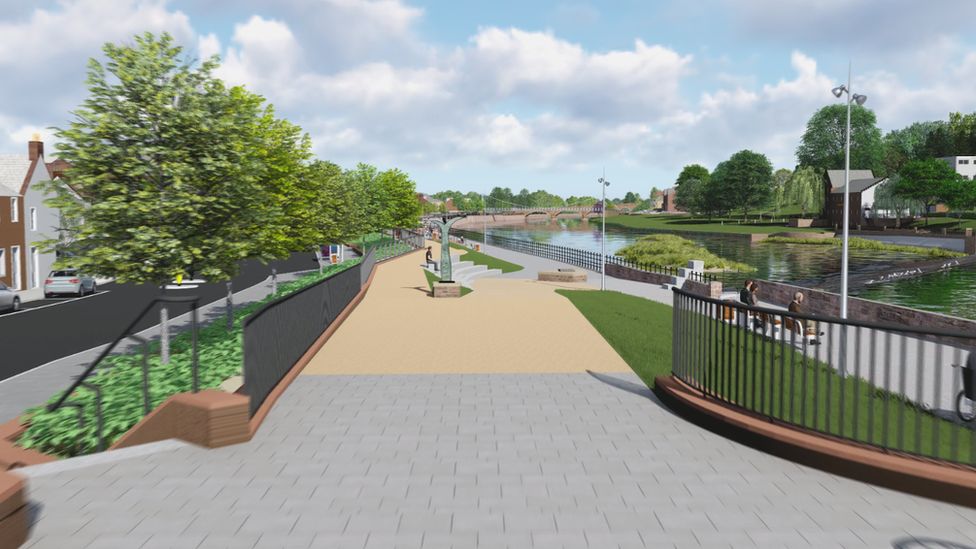 A public inquiry has started into £25m proposals to tackle long-standing flooding problems in Dumfries.
Four weeks have been set aside to hear evidence about the Whitesands scheme.
Dumfries and Galloway Council's administration has said it would provide protection as well as boost regeneration in the area.
However, opponents have voiced concerns about the impact on riverside views, the cost of the scheme and the loss of parking spaces.
John Dowson of the Save Our Sands campaign said: "This is the day where we look into what will be a town-changing decision.
"If we don't get it right for the next 100 years Dumfries will be changed for that period of time.
"All we want at the end of the day is for the council to show a little bit of respect to the community, come and speak to us in a meaningful way and try to agree on a solution for the Whitesands that really everyone can sign up to."
He said his group would be happy to see further discussions over the scheme but would continue to fight the plans even if the inquiry found in favour of the project.
The history of River Nith flooding in Dumfries goes back for decades and problems in the Whitesands area have become an almost annual occurrence in recent years.
The latest attempt to tackle those issues is based on a "raised walkway" concept with a combination of walls, glass panels and flood gates providing flood protection.
There have been numerous attempts to get the local authority to drop the plan but it has now reached public inquiry.
It will look at the visual and heritage impact, the effect on tourism and parking and community engagement as well as technical matters.
It has been scheduled to run until 7 December.
The inquiry will ultimately decide whether to take the scheme forward, modify it or abandon it entirely.
By Giancarlo Rinaldi, BBC News south of Scotland reporter
The start of the public inquiry was greeted by a suitably damp day with rain spattering the windows of the Easterbrook Hall.
Early evidence was, as the chairman admitted, "a bit anoraky".
Yet there were some skirmishes between opposition campaigners and the QC representing Dumfries and Galloway Council that hinted at the battle to come.
They will have four weeks and hours of evidence to get their teeth into in the days ahead.
At the end of that, the Scottish government will have the unenviable task of trying to answer a question that has vexed Doonhamers for years.
How do you solve a problem like the Whitesands?
Related Internet Links
The BBC is not responsible for the content of external sites.