Burmese Halo Trust worker found guilty of rape attempt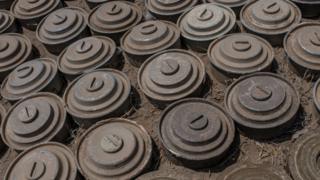 A Scots landmine-clearing charity has confirmed a worker it suspended in January was later found guilty of attempted rape by a court in Myanmar.
The Dumfries and Galloway-based Halo Trust removed the Burmese man from his duties when the case first emerged.
It has also revealed it has dismissed a Cambodian employee following a separate investigation.
It came after an allegation of sexual harassment made by a female colleague in August.
The trust - based near Thornhill - said it employed nearly 9,000 men and women from local communities in over 24 countries and territories.
'Regular review'
It said all staff undertook compulsory briefings on safeguarding policies which were subject to "regular review".
A spokeswoman confirmed the outcome of the case of the worker in Myanmar - formerly Burma - who was suspended earlier this year after an allegation of sexual assault when off duty.
"The case was reported to the British Embassy, the Department for International Development, Charity Commissioner and Office of the Scottish Charity Regulator," she said.
"The Halo Trust offered full co-operation with the police investigation.
"A Burmese court later found him guilty of attempted rape and he was sentenced in March.
"Once again we informed DFID, the British Embassy and the Charity Commission immediately."
She also said there had been another incident this year.
"In August we received an allegation of sexual harassment made against a Cambodian male employee made by a female Cambodian colleague," she said.
"Following an investigation he was dismissed.
"A report has been made to the Charity Commission."