Wigtown Book Festival set for record year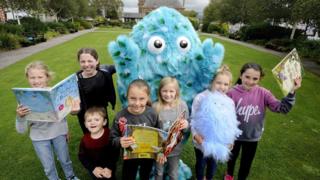 Advanced ticket sales for the Wigtown Book Festival's 20th edition have reached record levels.
They have already exceeded the total sold by the end of last year's event.
Organisers said that sales had exceeded £100,000 in value for the first time ever and have attributed it to a series of factors.
They said Nicola Sturgeon's visit, coverage of the 20th anniversary and a VisitScotland campaign to promote the region had all played their part.
Artistic Director Adrian Turpin said: "The book town celebrations in May have given us a great launch pad to promote the festival as widely as possible and have brought what feels like a wave of goodwill towards us.
"And the coverage of the Open Book, Wigtown's unique Air B&B bookshop, has received coverage around the world."
He said there had also been investment in the festival with a "beefed up" weekday programme and new infrastructure.
The children's festival has been rebranded for the first time since it launched - now being known as Big Wig with an accompanying mascot.
Events get under way on Friday and will run until 30 September.