Borderlands growth bid 'on target'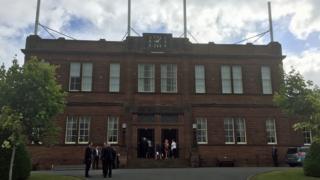 Multi-million pound proposals to boost the economies of southern Scotland and northern England are "on target" to be submitted by the end of the month.
They will be put forward by Borderlands Partnership, a collaboration of five cross-border local authorities.
Dumfries and Galloway, Scottish Borders, Northumberland, Cumbria and Carlisle City councils are involved.
The aim is to promote the economic growth and competitiveness of the area straddling the Scotland-England border.
'Refine the ideas'
A conference in Dumfries earlier this year was told a Borderlands growth deal could be "transformational" for the area.
Now proposals are almost ready to be submitted to the UK and Scottish governments.
Among the key programmes to be considered are proposals to extend the Borders Railway to Carlisle.
The region-wide plans also involve four specific place-based projects, which are:
Carlisle Station Gateway
Chapelcross Energy Park near Annan
Berwick Theatre and Conference Centre
The Mountain Bike Innovation Centre in the Borders
A Borderlands Partnership statement said it had been working hard to "refine the ideas and proposals" in recent months.
"Each of the local authority partners is considering the proposal over the coming weeks and we are on target to submit our deal proposal to the UK and Scottish governments by the end of September," it said.
The final amount of funding for the growth deal is yet to be agreed. However, the authorities involved hope to see an announcement later this year.
'Shared goals'
Dumfries and Galloway Council Leader Elaine Murray said: "Building the local economy is one of this council's top priorities and I am delighted that we have made such good progress to date.
"The result of all our hard work is about to come to fruition and our work on these projects has shown that we are more than capable of cross-border working and that we can unite behind shared goals."
Deputy leader Rob Davidson added: "Some projects will be exclusive to individual authorities, but some will be cross cutting.
"The Borderlands deal is on track to truly transform the economy of the area."