'Robust' talks held over closed Dumfries school campus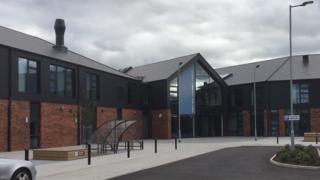 A "robust discussion" has been held between contractors and a council over the closure of a new school campus in Dumfries on safety grounds.
Dumfries and Galloway Council shut the North West Community Campus on Friday after a pupil was hit by a smart board.
It said that during talks with the contractor Graham, both parties expressed "disappointment" at the situation.
They promised to resolve the problems in an "open and transparent way".
Independent checks are continuing on the site and an agreed programme of work to address any identified issues is expected to be agreed next week to allow the £28m campus to reopen.
North West Campus closure
Where are the children going?
399
St Ninian's Primary (Nursery and P1-P6)
253
Lochside Primary (P7 and S1-S3)
59 St Joseph's College (S4)

63 Dumfries High School (S5-S6)
Google
In the meantime, interim arrangements will see pupils taught at a range of different schools.
Meanwhile, Graham has said another nearby project - The Bridge learning hub in Dumfries - remains on schedule to open in October.
A spokesman said all checks had been done and that the new build had a "completely different design".
In addition to the Dumfries campus and learning hub, Graham also built the recently-opened Dalbeattie learning campus and refurbished St Joseph's College in Dumfries.
Timeline: The North West Community Campus
8 November 2016 - Work officially begins on the multi-million pound project to replace Lochside and St Ninian's primary schools, Langlands special secondary school and Maxwelltown High School.
25 July 2018 - An investigation is carried out into the cause of a leak in the building just weeks before it opens.
21 August 2018 - The campus opens to pupils.
24 August 2018 - The school is shut just days later after a child was hit by a door.
28 August 2018 - The facility reopens after safety checks.
7 September 2018 - The campus is closed indefinitely after a pupil is struck by a smart board.