Mother of boy injured by falling smart screen speaks out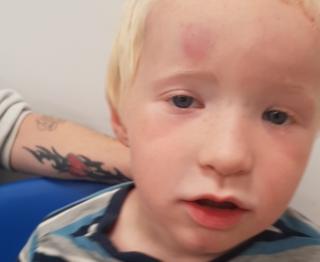 The mother of a four-year-old boy hurt when a smart board fell on him at a new school in Dumfries has described the situation as "appalling".
Jack Hall was left bruised in the incident at North West Community Campus last Friday, and the school has been shut for safety checks ever since.
A report to Dumfries and Galloway Council found that two security screws were missing from the screen.
His mother Elaine Hastie said it was "absolutely ridiculous".
She claimed she had been left in the dark about the cause of the incident and she wanted a personal apology from Dumfries and Galloway Council.
After being told about the missing screws by BBC Scotland, she said: "I think that it's absolutely appalling. They should have told me that."
Ms Hastie said she was only able to piece together details of the incident from information she received from the ambulance staff who took Jack to hospital, and from media reports.
A spokesman for the local authority said the acting director of children and young people, Gillian Brysdon, had spoken to Ms Hastie twice since the incident at the new building.
Ms Hastie was interviewed by BBC Scotland news after a council meeting was informed that two children and one member of staff had been injured in three separate incidents at the school since it opened in August.
The campus has been shut indefinitely for safety checks and alternative arrangements made for pupils to continue their education in other schools in the town.
Constructors Graham claimed "excessive force" had been used on the screen which fell on Jack.
During the meeting Ms Brysdon dismissed suggestions the smart board had been tampered with before it fell on Jack.
She said there had been no police involvement regarding claims of malicious activity.
Jack, who has suspected ADHD, suspected autism and hypermobility, joined the school's nursery when the campus opened in August.
His 26-year-old mother understood her son had been in a room with a learning support teacher when the accident happened.
She was called to the school where she met the ambulance which took the child to Dumfries and Galloway Royal Infirmary.
Jack was discharged after two hours and doctors told Ms Hastie her son had been "very lucky" to escape with just a bruise and lump to the head.
Safety reassurance
She said she was "angry" and "wanted answers".
Ms Hastie added: "It's not just for my kids, it's for everybody else's kids as well, to make sure that they feel safe in a new school.
"You want to be able to drop your kids off and feel they're safe and not panicking every time you hear an ambulance or anything going by.
"That's the stage that everybody is at just now."
North West Campus closure
Where are the children going?
399
St Ninian's Primary (Nursery and P1-P6)
253
Lochside Primary (P7 and S1-S3)
59 St Joseph's College (S4)

63 Dumfries High School (S5-S6)
Google
Jack's accident happened shortly after the campus was closed temporarily when a pupil was struck by a sliding door which came off its rails.
It reopened after council bosses assured parents, pupils and staff that it was safe.
Now Ms Hastie wants to know that the campus is "100% safe" before she allows Jack and his older sister, Grace, back into the school.
She said: "I want reassurance from the council themselves and from the people's that done it to reassure every single person that it's physically safe.
"And for us to go and see that it's safe first before we let our kids in. I think that will be the same with every parent - they will want to go and check it."
Timeline: The North West Community Campus
8 November 2016 - Work officially begins on the multi-million pound project to replace Lochside and St Ninian's primary schools, Langlands special secondary school and Maxwelltown High School.
25 July 2018 - An investigation is carried out into the cause of a leak in the building just weeks before it opens.
21 August 2018 - The campus opens to pupils.
24 August 2018 - The school is shut just days later after a child was hit by a door.
28 August 2018 - The facility reopens after safety checks.
7 September 2018 - The campus is closed indefinitely after a pupil is struck by a smart board.