Timmy Mallett completes Galloway bridge painting mission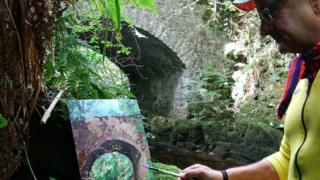 TV presenter Timmy Mallett has completed a mission to paint the same Galloway bridge his father did more than 50 years ago.
He was helped out by the recently opened Kirkcudbright Gallery to identify the spot.
He then visited the south of Scotland this week to capture his own version of the "secret bridge".
Mallett gave the gallery's arts officer an original watercolour of the site as thanks for their help.
"Over the past couple of months we helped discover the location of the bridge for Timmy, so he could recreate the painting," said a statement on the gallery's Instagram account.
"Thanks for visiting the gallery Timmy.
"We are thrilled your mission was a success."
The former Wide Awake Club presenter told the BBC Scotland news website the story all started with the Dorothy L Sayers mystery The Five Red Herrings which is based in Galloway.
It inspired his father to try to paint an image of the bridge during a visit to the area in 1966.
With only the artwork and a short diary entry to go on, Mallett contacted the new Kirkcudbright Gallery who were able to point him in the right direction.
'Lovely moment'
"They weren't wrong when they said access was difficult," he said.
"But it was a lovely moment of exploration to find something."
He added that he had thoroughly enjoyed his time following in his father's footsteps.
"It is a gorgeous part of the country," he said.
"Most people rush north in their car to the Highlands and Islands when there is this little gem.
"I can see why people would want to keep it secret."