Parents assured problem-hit school in Dumfries is safe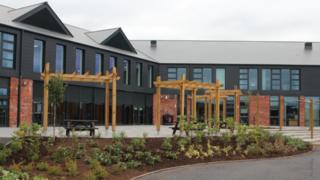 Pupils, parents and staff have been assured a brand new £28m school is safe, days after a girl was struck by a door which came off its rails.
The child is said to have suffered superficial bruising in the incident at the North West Community Campus in Dumfries on Thursday.
The school was closed on Friday for further safety checks and will remain shut on Monday for staff training.
Education head Colin Grant said they were committed to reopening on Tuesday.
He told the BBC Scotland website that the door at the centre of incident had been removed.
It was used to screen coat hooks at the side of the wall and he said he expected all similar doors to be removed from the campus permanently.
"We're very disappointed and there's nobody pretending otherwise that we have not got off to the start we wanted with the new school," he said.
"We were really excited about the new facility, we had 2,000 people over the door last Sunday and it was fantastic to see the young people starting on Tuesday."
But the Dumfries and Galloway Council official said there had been a number of "snagging" issues that emerged when the school was operational.
And when the child was hurt by the door, council officials decided to "play it safe", close the school and have all the issues resolved over the weekend.
The incident has sparked strong criticism of the local authority on social media.
It came after photos emerged online suggesting that a ceiling had collapsed at the school weeks before it was due to open.
An investigation by construction firm Graham blamed the issue on a sprinkler fitting error which had caused "sagging and superficial damage".
Asked if he could reassure pupils, parents and staff that North West Community Campus was safe, Mr Grant replied: "Yes, I would like to do that because we've probably done far greater levels of checks now than you might normally have done.
"But certainly I can understand why people have lost a bit of confidence."
The director for children, young people and lifelong learning was also asked whether the school was opened to pupils before it was ready.
"It's easy to say that in hindsight," he replied.
'Full confidence'
"We felt it was ready, we were comfortable it was ready. But in fact once you open any new building that becomes operational there's a lot of people working in there, sometimes you see other things.
"The issue with the sliding rail was the thing that prompted us to say let's take a pause here, take a bit of extra time to give the fullest reassurance to everyone."
Mr Grant said teachers will be given extra training in the systems that are running in the new school - phones, tannoys, fire procedures - while the school is closed for a second day on Monday.
He added: "We recognise that's not easy for parents and we don't take these decisions lightly at all, and we regret that we had to do that, but I think the parents need that full assurance and our staff need that full confidence that we can work through all the processes on Monday.
"We're all committed to opening for the young people on Tuesday."