Borderlands deal bid gathers pace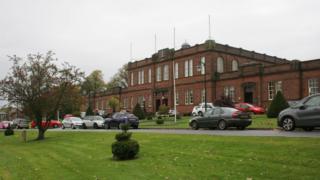 Councils across the Scotland-England border hope to deliver their case for a "growth deal" in a matter of weeks.
Their aim is to formally submit an overview and strategic outline business case to the UK and Scottish governments by the end of September.
Dumfries and Galloway, Scottish Borders, Northumberland, Cumbria and Carlisle City councils are involved.
A conference in Dumfries in June was told a growth deal could be "transformational" for the area.
Chancellor Philip Hammond announced support for the project in his budget last year.
'Appropriate standard'
The local authorities have been working together closely since then to decide which key programmes and projects would best help boost the economy.
Among the schemes potentially involved is a study looking at extending the Borders Railway to Carlisle.
A report to Scottish Borders Council said "good progress" had already been made in developing the growth deal bid.
It is hoped documents can now be developed to an "appropriate standard" in order to be submitted before the end of September.
The aim would then be to unlock significant support for projects across southern Scotland and northern England.