Nicola Sturgeon to discuss her 'life in books' at festival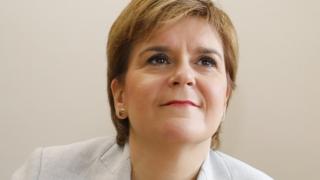 Nicola Sturgeon will discuss her literary inspirations at one of Scotland's leading book festivals.
Scotland's first minister will speak on the opening day of the 20th annual Wigtown Book Festival next month.
Her passion for reading is well known, and she has described books as "amongst my very favourite things in life".
She will discuss the literature that has inspired her during a discussion with author Damian Barr entitled A Life in Books.
Ms Sturgeon joins a line-up which includes sports presenter Clare Balding, author Patrick Gale and comedian Susan Calman.
Her audience can expect the SNP leader to discuss authors including Muriel Spark and John Boyne.
She said: "The Wigtown Book Festival has grown into a wonderful addition to the literary calendar, and it's to the credit of the local community that have made it such a resounding success.
"I'm delighted to be able to join them as they celebrate their 20th year, and I look forward to what I'm sure will be a lively and thought-provoking discussion."
Ms Sturgeon will not be the only politician at Wigtown this September, as the line up also includes Lib Dem MP Jo Swinson and former Home Secretary Kenneth Baker.
Adrian Turpin, Wigtown Book Festival's artistic director, said: "The first minister is known not only for her love of books but her commitment to encouraging children and young people to discover the joy of reading.
"We are very much looking forward to hearing about the literature that has helped shape her life and the ideas and values it has helped to form.
"And for anyone who wants to understand what makes a political leader tick, I wholeheartedly believe that one of the best insights comes from what they choose to read."
The festival takes place in Scotland's "national book town" from 21 to 30 September.