Belfast ice hockey player jailed for Dumfries sex attack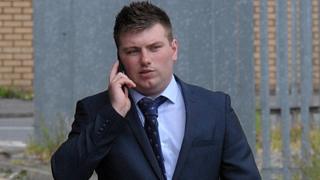 An ice hockey player who left a 27-year-old woman fearing she was going to die during a sex attack has been jailed for four years.
Colin Grimason, 26, of Belfast, pounced on his victim after dragging her into an alley in Dumfries in May last year.
He had denied the offence but was convicted by a jury at the High Court in Glasgow earlier this year.
A judge told him it was a "particularly serious" attack. Grimason was also placed on the sex offenders register.
The court previously heard how Grimason - who played for Belfast Prowlers - had been in southern Scotland for an ice hockey tournament when he carried out the attack.
Following his conviction in June, his victim spoke out to encourage other women to report sexual assaults.
'Grave crime'
Jailing Grimason, Lord Armstrong said: "You have been convicted of a particularly serious sexual attack on an unsuspecting young woman, who was unknown to you, and you inflicted serious internal injuries on her.
"Your actions have had a significant impact on her life.
"This is a grave crime from which all women should be protected."
Defence counsel Derick Nelson said it was "devastating" to Grimason that his previous good name had been "ruined".
"He has no previous convictions and continues to deny the offence," he added.
'Degree of closure'
Det Insp Robin Ferguson welcomed the jail term describing Grimason's actions as those of a "sexual predator" who had subjected his victim to an ordeal which would "live with her forever".
He said he hoped the sentence would bring a "degree of closure" for the woman and her family and friends.
He also said the assistance received from the community, licensed premises and retail outlets in the area had allowed police to trace and arrest Grimason before he had time to leave the region.