Lorry loaded with carrots lands in field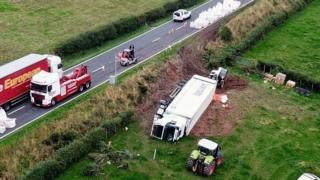 A lorry driver escaped serious injury after his truck ran off the road and landed in a field in south-west Scotland.
He was transporting a load of carrots in the white HGV when it crashed on the A75 near Mouswald.
Police believe the vehicle left the road at about 03:30 on Tuesday and they are appealing for witnesses.
The driver was treated for minor injuries at Dumfries and Galloway Royal Infirmary.
The road was closed for two hours on Tuesday night so the vehicle could be recovered.