Eyemouth asbestos demolition work 'within rules'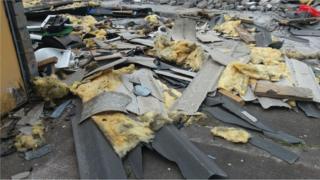 Scottish Borders Council has said there is "minimal risk" from material at a demolition site in Eyemouth.
Local residents had drawn attention to roofing panels with a printed warning about the risk of breathing asbestos fibres.
It was said children had been able to access the site to play there.
The council said the contractor has assured it that work being undertaken at the former high school complies with official regulations.
Broken roofing on the site could be seen with asbestos health warnings printed on some fragments.
But the council said the demolition work did not require to be carried out under controlled conditions, and that the demolition was being carried out by trained staff.
A council spokesman said: "As part of pre-contract works a full asbestos survey was undertaken at the former Eyemouth High School. The materials identified in the building as containing asbestos were deemed as 'non-licensed' and as such do not have to be removed under 'controlled conditions'.
"This is due to the make-up of the materials and the minimal risk of any asbestos fibres being released which would exceed the relevant control limits.
"The contractor is a licensed asbestos removal contractor and all works are being undertaken by trained staff."
He added: "In light of concerns from residents, officers have visited the site today and spoken with the contractor, who have assured us that all guidance has been adhered to.
"Material taken down to date will be removed from the site today."