Tapestry property boost predicted for Galashiels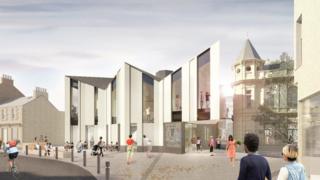 A property boost is being predicted due to the creation of a permanent home for the Great Tapestry of Scotland in the Scottish Borders.
Work has started on the construction of the visitor centre in Galashiels alongside wider regeneration efforts.
Property consultancy Galbraith said sales across the region had increased by 8% between April and June this year compared with the same period in 2017.
It predicted further growth in and around Galashiels in future.
Head of residential sales Alex Inglis said: "Galashiels will certainly benefit from the new visitor centre for the Great Tapestry of Scotland.
"I understand there will be further exhibition spaces, permanent displays of other works of art in the centre and a new landscaped footpath leading from the train station.
"This a very welcome regeneration project, likely to increase visitors to Galashiels and interest in the town as a tourist destination, with an associated boost to the property market."
Work began earlier this year to demolish an old Poundstretcher store as part of the £6.7m project to build the new visitor centre.
Once the visitor centre is constructed on the site it is hoped it will bring more than 50,000 people to the town each year and create 16 jobs.