Sanquhar turbines meet Nestle's energy needs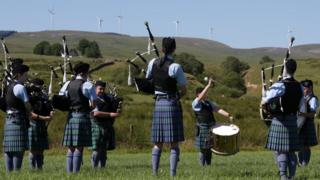 A new wind farm in southern Scotland will meet half the energy needs of food giant Nestle in the UK and Ireland.
The nine turbines near Sanquhar were developed in partnership with Community Windpower.
The development was officially opened by Nestle UK and Ireland's Chief Executive Stefano Agostini.
He said the company was playing its part in tackling climate change and helping to "safeguard our planet's future".
The firm said all of its grid supplied electricity was already 100% renewable but the new wind farm created "additional, sustainable capacity".
"I'm delighted we are not only using 100% renewable electricity to run our business here in the UK and Ireland, we are now responsible for producing it too," said Mr Agostini.
Community Windpower Managing Director Ron Wood said the partnership with Nestle was delivering a "substantial new investment" in Scotland.
"Global warming is becoming more obvious every day and it's great to see a company as influential as Nestle making a stand for the environment," he said.