Scottish Borders Council considers handing over its toilets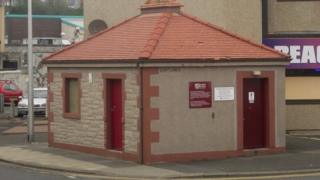 A council is considering handing over the operation and maintenance of its public toilets after a charging policy failed to generate the expected income.
The local authority in the Scottish Borders will look at identifying "third party partners" for its 41 facilities.
It comes after a report showed a 30p charge at 27 toilets would generate £89,000 not the £268,000 hoped for.
The council agreed to launch a procurement exercise to gauge interest in running the facilities.
Sandy Aitchison, who holds the local authority portfolio for neighbourhoods and locality services, said: "I know that the team have done a large amount of work on this."
He recommended looking at the possibility of taking the toilets out of direct council control.
'Big mess'
"This is a sensible option, and I look forward to the outcome of the review," he said.
However, Helen Laing, who represents East Berwickshire, described the situation as a "big mess, literally".
"The use of an outside party will inevitably lead to some loss of organisational control, and ultimately it will be service users who suffer," she said.
"Good public toilets is not a very glamorous ambition, but nonetheless is essential for our residents as they go about their business in our communities.
"We should do this ourselves and not rely on others to sort out this mess."
Story by local democracy reporter Joseph Anderson