Robert the Bruce site nightclub set for approval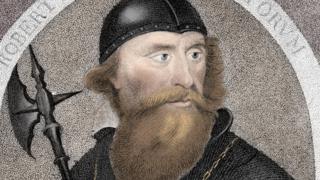 A council is being advised to approve plans for a nightclub near the spot where Robert the Bruce began his bid for the throne of Scotland.
Bruce killed John "Red" Comyn, his rival for the crown, at the old Greyfriars Church in Dumfries in 1306.
A proposal has now been tabled to overhaul an empty pound shop which sits close to that site.
Councillors have been advised to give approval - if developers contribute to improving CCTV in the area.
A plaque outside the vacant store commemorates the spot where the historic killing took place.
The proposals would see the creation of a bar area, dancefloor and DJ booth inside the building.
Public opinion has been divided on the scheme with letters of representation received both in favour and against.
Reasons given for support included:
the need for investment in the town
modern high streets require a mix of uses
the filling of a "long-vacant" building
creation of job opportunities
However, opponents have raised a number of concerns such as:
the impact on nearby homes of noise and disturbance
too many "late-night venues" already in the town
the potential use of a nearby car park for congregation, smoking and "engaging in sexual congress"
the need for extra policing when resources are already stretched
Council planning officers have concluded that the development should proceed and advised councillors to give approval.
However, they want to see up to £10,000 put towards additional CCTV coverage in the area.