Pinneys of Scotland jobs taskforce seeks Annan base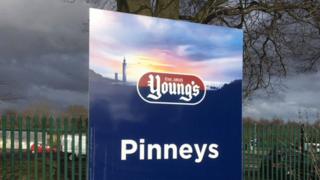 A base is being sought for a task force to help deal with the effects of the closure of the Pinneys of Scotland plant in Annan.
Premises in the heart of the town - including on its High Street - are being considered.
It comes with the first redundancies among the 450-strong workforce expected by the end of the month.
The Scottish government's PACE team is working to help identify alternative job or training opportunities.
Sean Marshall, a councillor for the area, said there was a recognised need for an economic taskforce to be put in place for the longer term.
"I really see that as taking it to the next step," he said.
"We are now starting to see probably the first tranche of workers leaving Pinneys.
"I had a meeting with the workforce representatives and they said there needs to be ongoing support to the workforce."
He said a high street base would be ideal to help tackle the impact of the loss of jobs at the site.