DG One leisure centre could reopen early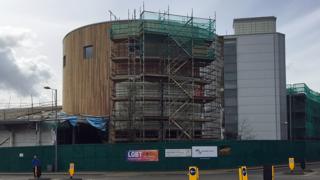 A major repair programme to construction faults at a multi-million pound leisure centre could be completed weeks ahead of schedule.
A report to councillors suggested the reopening of the DG One site in Dumfries would happen in October 2019.
However, Dumfries and Galloway Council leader Elaine Murray said it might be possible during school summer holidays.
She stressed that the work would not be rushed in order to allow the reopening to take place.
"That's one of the lessons to be learned from DG One - that we shouldn't be desperate to get things open rather than doing the health and safety procedures," she said.
"In this case we are assured that all health and safety processes have been rigorously adhered to."
Ms Murray said that if there was a possibility to open earlier than anticipated, the council would be happy to take it.
"We are talking at the moment about an opening date to the public in August," she said.
"If it were possible to bring that forward a little bit so that for the majority of the summer school holidays next year children could have access to the facilities and visitors have access to those leisure facilities that would be an added bonus."