Shelby Watson's Paralympic dream is shattered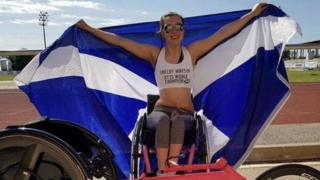 A world-class Scottish wheelchair athlete is considering quitting the sport she loves after her dream of becoming a Paralympian was shattered.
Shelby Watson holds five world records in T33 wheelchair races but will not be at the next Paralympic Games.
That is because there will be no stand-alone women's T33 events at Tokyo 2020 - but there will be a men's 100m.
The International Paralympic Committee (IPC) said there were too few world-ranked female T33 athletes.
The men's T33 100m was introduced at the Paralympics in Rio in 2016 as there are more world-ranked eligible male athletes, the IPC added.
Ms Watson, who has cerebral palsy, told the BBC Scotland website that she had pinned her hopes on the women's race making its Paralympic debut in 2020.
"I'm very angry, to be honest," she said.
"My first emotion is anger because it's six years of my life that I've given away to training with the hope of my big dream to go to the Paralympics.
"It's not just a few years here and there with a spot of training, it's six years intense training and putting everything else aside."
The 20-year-old student, who lives in Johnstonebridge, Dumfries and Galloway, was inspired to compete in the Paralympics during London 2012.
As well as studying for a childcare qualification, she follows a gruelling fitness regime, training twice a day, six days a week.
Her hard work paid off and she is the current holder of five T33 world records - in the 100m, 200m, 400m, 800m, and 1,500m events.
But she said she was unlikely to continue training on the off-chance the sport could be included at the Paris games in 2024.
"I think I will have dropped out by then," she admitted.
"I'm at that stage where I've spent a lot of my years working for these upcoming Paralympics and they've never happened.
"So unless I got a solid 'it's definitely going to happen' from somebody, then I'm not doing it."
The IPC has said Ms Watson would be eligible to compete in the T34 100m class - for athletes with more strength and function in their upper body - but she is reluctant.
She said she would have to take three seconds off her world record time just to qualify.
"I can't push to that level, it's too wide a gap," she said. "We're not remotely similar, it's very unfair."
How do they decide which events will be part of the Paralympics?
World Para Athletics analyses the strength in depth of each class when deciding which events to include in the Paralympics, according to the IPC.
It looks at the world rankings and geographical spread of talent in terms of countries and continents.
According to its own figures, there were 34 licensed T33 women athletes in 2017 - up from 19 in 2014.
However, just seven of them were "world-ranked", meaning they competed in an IPC-sanctioned event, in 2017. They came from three different countries.
In the same year, there were 13 male world-ranked athletes from eight different countries.
A spokesman said: "While we appreciate Shelby's frustrations as a world-class athlete wanting to compete at the Paralympics, it needs to be noted that each sport, including Para Athletics, is limited to the number of medal events it can include at a Paralympic Games.
"For Tokyo 2020, there are 168 Para athletics medal events, 10 less than at Rio 2016."
Ms Watson argued that women were dropping out of the sport because they were not getting the chance to race at the highest level.
Without a so-called "Paralympic pathway", they can struggle to win the financial backing they need to support their training and fund travel to international events.
She said the number of competitors in the T33 class would only increase if it was included in the Paralympics.
An IPC spokesman said: "In athletics and other sports included in the Paralympic programme, we have seen athlete numbers in classes continue to grow even if a medal event is not included for a certain edition of the games.
"We are seeing this to be true in the women's T33 class, where the number of licensed athletes has increased from 19 in 2014 to 34 in 2017.
"If these licensed athletes were to compete internationally and get a world ranking, then it would certainly aid the efforts of T33 athletes to have events included in future Paralympic programmes."
Wheelchair track racing classifications
T33 - Athletes have moderate to severe co-ordination impairment of three to four limbs, but typically have almost full functional control in the least impaired arm. Forward propulsion of the wheelchair is impacted by significant asymmetry in arm action and/or very poor grasp and release in one hand and limited trunk movement.
T34 - Athletes are generally affected in all four limbs, but more in the lower limbs than the upper limbs. The arms and trunk demonstrate fair-to-good functional strength and near to able-bodied grasp, release and relatively symmetrical wheelchair propulsion.
Source: World Para Athletics