Stranraer harbour safety needs 'fundamental review'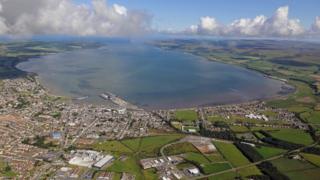 A council has been told to carry out a "fundamental review" of safety at a south of Scotland harbour.
Concerns were raised in Stranraer about the interaction between pedestrians, traffic and commercial activities.
A Health and Safety Executive visit found vehicles parked "randomly" on the quayside and taxis "three abreast" outside any marked parking areas.
Dumfries and Galloway Council has until 26 July to confirm what action it will take to address the situation.
The HSE visited the area in February this year and highlighted a range of problems.
They included:
a vehicle parked between bollards at the entrance to a pedestrianised pier
being advised that cars were accessing a promenade walkway to make deliveries
vehicles bumping up and down the kerbside next to the pier
The council has drawn up a list of options of how it might tackle the issues raised.
It is being advised to agree to the installation of a vehicle barrier, information signing and line markings to provide the necessary risk reduction at Stranraer.
The HSE also highlighted "real concerns" after a visit to Kirkcudbright harbour about arrangements when fishing boats were offloading goods or loading equipment.
The council has been told to ensure any businesses using the quayside have adequate measures in place to ensure members of the public are not being put at risk.