Historical bible stolen from Kirkmaiden church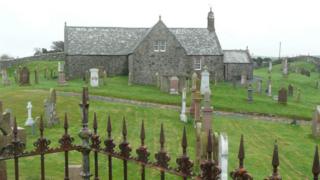 A historical bible has been stolen from a display case in a south of Scotland church.
The theft took place at Kirkmaiden Old Parish Church near Drummore some time on Tuesday or Wednesday.
The bible - taken while the church was open - contains a misprint which makes it rare.
Police said that it was in a poor condition and at this stage no value could be put on it. They have appealed for information.
PC Matthew Pool said: "The church is open to visitors and the bible appears to have been there when a group were shown round the church on Tuesday.
"It was discovered missing on Wednesday.
"The church is open to the public during the day and as such there does not appear to have been a break-in.
"It appears the bible was stolen during the time the building was open."