Hawick care home improvement failure criticised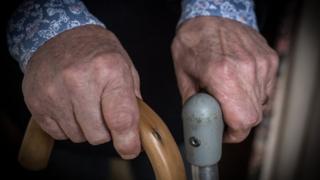 A care home has been criticised for failing to make mandatory improvements demanded by inspectors.
Scottish Borders Council's arms-length care company SB Cares was ordered to address staff training at Deanfield Care Home in Hawick in May 2017.
Inspectors asked for the improvements to be completed within six weeks but have had to renew their demand.
SB Cares said it was "disappointing" the training goal had not been met but "significant progress" had been made.
The Care Inspectorate has previously highlighted other failures by SB Cares to meet its demands, writes local democracy reporter Joseph Anderson.
In April it found that requirements issued two years ago to improve the home care west service had still not been carried out.
Weeks later a similar pattern was found in the home care east provision.
SB Cares said it "welcomed the support and feedback" on the Deanfield Care Home.
"While there are some areas for improvement, a number of areas relating to the performance of the service have been praised and progress made since the last inspection was acknowledged," said a spokesperson.
'Vitally important'
The company said it was pleased by positive comments about its team being aware of its responsibilities and a good approach to meeting the needs of residents, their relatives and carers.
Feedback from residents was also "valued", in particular the "encouraging comments about the quality of their care and support".
"It is disappointing that we have not met fully the requirement that all our staff receive mandatory training within the stipulated timescales, however we would stress that significant progress has been made in this area," the spokesperson added.
"In addition, the inspectorate has recognised that our management team were responsive to the areas of improvement highlighted during the inspection and from its own findings prior to the inspection commencing.
"We do accept how vitally important well trained staff are to enable quality care and support for the residents and will continue to progress this as a priority within our service."