Union concern over a plan to use pupils to run school libraries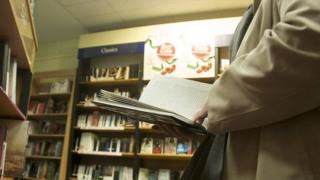 Students could be disadvantaged by a plan to use pupils and volunteers to run school libraries, a union claims.
Unison has urged parents to oppose the pilot project in the Scottish Borders and has launched an online petition.
Peebles High School, Kelso High School and Galashiels Academy are involved in the system which could be rolled out to the region's other six secondaries.
Scottish Borders Council has said it is an opportunity for senior pupils to gain qualifications and training.
It has stressed that there are no redundancies as a result of the pilot project and it would be reviewed before the end of the year.
The local authority said it had agreed to maintain school libraries as part of its budget-setting process but it also needed to recognise "the changing way in which pupils study and access information, including digital solutions".
The move has been widely criticised by professional bodies with the Chartered Institute of Librarians and Information Professionals in Scotland (CILIPS) penning an open letter to the authority with its concerns.
Now Unison's Scottish Borders public service branch is asking parents to consider what the move would mean for their children.
"We believe children in the affected schools could be disadvantaged when it comes to preparing for their exams in the coming year," it said.
"Children in the three schools that are part of the pilot will no longer have access to support and guidance from qualified staff.
"Other pupils and volunteers cannot be expected to offer the current level of support to those using the library for personal study, research or preparations for exams and university applications."
'Reliable sources'
It said students would be "unfairly disadvantaged" in comparison with other schools in the Borders and across Scotland.
"Restrictions in opening times due to lack of staffing may result in children who are preparing for exams being unable to study in a quiet place with all the resources they need at hand," the union said.
"Researching and resourcing information is a skill taught by library staff and without their input many children will struggle when it comes to finding reliable sources of information and separating fact from fiction."
It has asked parents to write to their councillor to oppose the plans.