'Stunning' Kirkcudbright art gallery opens its doors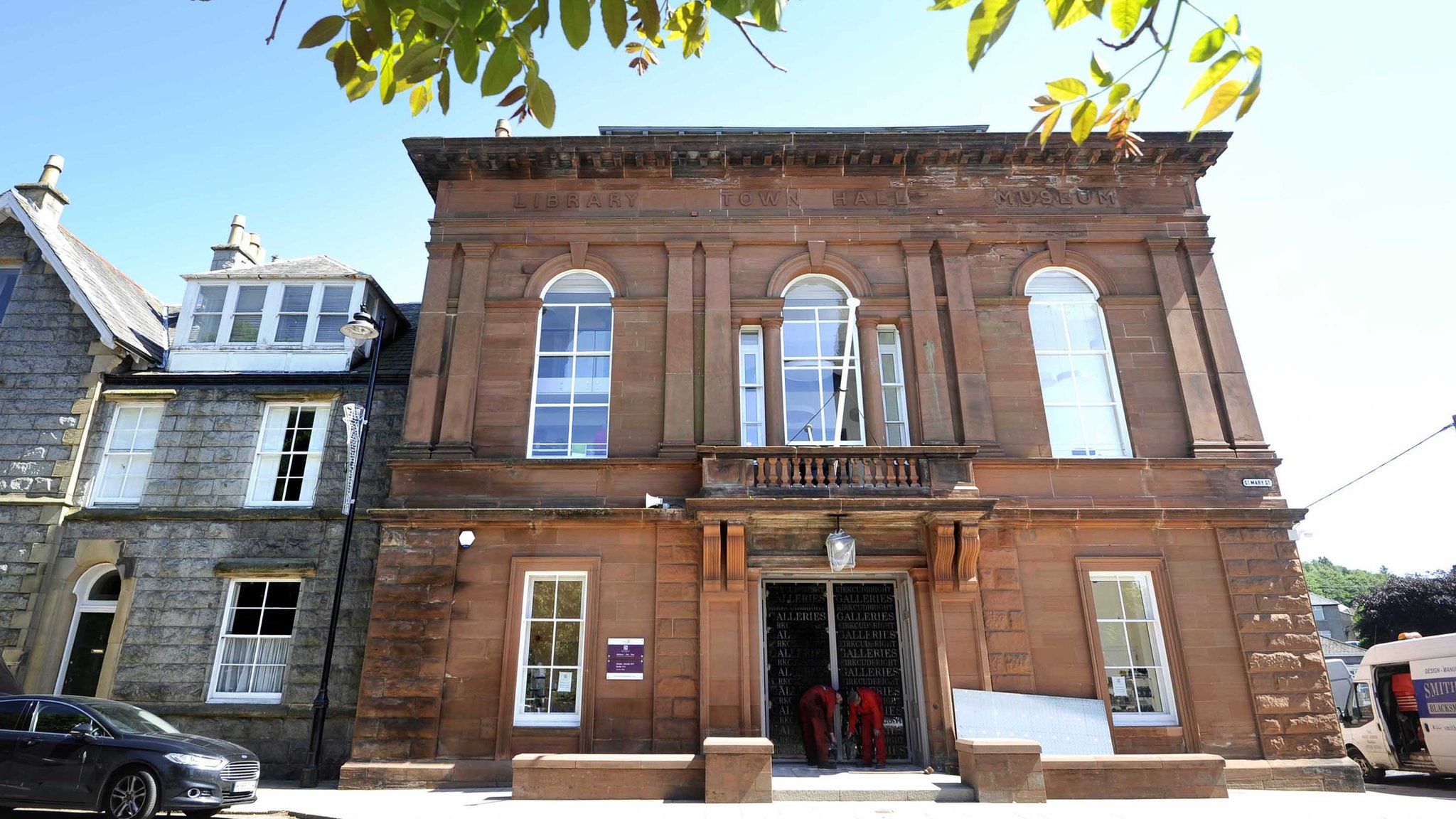 An art gallery of "national significance" is opening to the public in the south of Scotland.
The £3.1m facility in Kirkcudbright completes a vision for the town which first surfaced nearly 20 years ago.
It provides a permanent home for work created by the many artists who have lived in the town down the years.
One of the star attractions for the opening is Sir Edwin Landseer's The Monarch of the Glen which is on tour around Scotland.
Display space in the gallery is on four levels and will cater for both permanent and touring exhibitions.
Curator Anne Ramsbottom said she was delighted with the final results of the work to convert the town hall which started in December 2016.
"It is a very special place - it has been beautifully designed and that in itself is unusual," she said.
"Quite often buildings are converted just to be a kind of box to contain things, this building has been converted to be beautiful in itself.
"A lot of thought has gone into people being able to enjoy the space, let alone enjoy the art that's inside.
"And that, I think is very unusual in the UK, it is a stunning building and beautifully done."
Three years ago the Kirkcudbright Artists' Collection was officially recognised as being nationally significant and much of it will be on permanent display.
It will include work by artists such as John Faed, Edward Atkinson Hornel, Jessie Marion King, Samuel John Peploe and Robert Sivell.
"It's a fantastic display of what is a nationally important collection," said Ms Ramsbottom.
In addition, it will be a temporary home to The Monarch of the Glen which arrived from the National Galleries of Scotland a few days ago.
"We are very lucky to be able to open our gallery with the king on our wall and he looks spectacular I think," said Ms Ramsbottom.
"I think people are going to be really excited to see him here in Kirkcudbright."
Visitors will also be able to see the 40/40 Vision exhibition, featuring work from Workshop and Artist Studio Provisions Scotland (WASPs) sites, including the one in Kirkcudbright.
It had been hoped the facility could provide a permanent home to the Galloway Viking Hoard discovered in the region.
That was ultimately allocated to National Museums Scotland in Edinburgh but they have pledged to lend a "representative portion" to the gallery.
Analysis: Giancarlo Rinaldi, BBC Scotland news website, south of Scotland reporter
Kirkcudbright has always been justifiably proud of its reputation as an artists' town.
However, there have been growing calls down the years for a venue to provide a major showcase and focal point for that history and tradition.
It has been a long journey - not without its stumbles and setbacks - but it now finally has such a place.
The new gallery is as much about the town's future as it is about celebrating its past.
It has been estimated it will bring 40,000 visitors a year and generate about £1m annually for the local economy.
That should give them plenty of cause to paint the town - both literally and metaphorically.
Related Internet Links
The BBC is not responsible for the content of external sites.