Lockerbie sky lantern event cancellation welcomed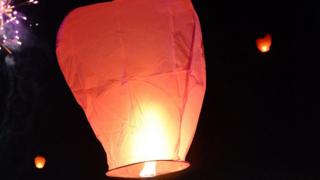 A farming union has welcomed the cancellation of a mass release of Chinese sky lanterns near Lockerbie.
The Festival of Lights had been scheduled to take place on 11 August.
NFU Scotland regional Manager Teresa Dougall said sky lanterns can start fires, and there be would be "great relief" at the news.
She added that the union had been campaigning for a full ban on the lanterns for several years and would continue to do so.
"While organisers of such events may point at insurance being in place, that is of little comfort," she said.
"By the time insurance is needed, the damage to property, crops, woodland or animal health has been done."
'Unacceptable risk'
NFU Scotland Policy Manager Penny Middleton described the cancellation as a "common sense decision".
"Chinese lanterns can cause untold damage as there is no control over where these burning structures of paper, metal and wood decide to land," she said.
"That means they present an unacceptable risk to animal health, property and farmland at any time of year.
"NFU Scotland's long-standing position is that the release of these seemingly innocent devices should be permanently banned, and we are building support at a public, political and local authority level in a bid to achieve that."
Organisers confirmed the event had been cancelled due to "unforeseen circumstances".