Union Chain Bridge funding delay warning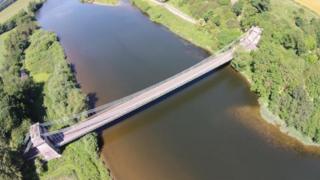 The cost of upgrading a cross-border bridge linking Scotland and England could rise if it fails to secure full Heritage Lottery Fund (HLF) support.
A report to councillors in the Borders has outlined progress on the £7.3m Union Chain Bridge scheme.
It said the deadline to submit an application for full HLF backing was "challenging" but "achievable".
But it said that if the funding was not granted, the council's contribution to the scheme would have to rise.
"If the HLF application was unsuccessful future bids could still be submitted," it said.
"However with the continued deterioration of the bridge and the risk of construction inflation the cost of a future project would increase, requiring an increased contribution from both authorities."
The Union Chain Bridge links the Borders and Northumberland and celebrates its 200th anniversary in 2020.
The upgrade project has cleared a first round application to the HLF but now hopes to secure full support.
Both Scottish Borders Council and Northumberland County Council have committed £1m towards the scheme.
A range of other funders have also given support in principle.