Springholm speed detection lights improvement planned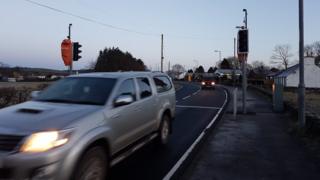 Work is to be carried out to try to prevent traffic lights designed to stop speeding vehicles from holding up cars which are respecting the limit.
They were installed in Springholm last year but were switched off weeks later due to "operational issues".
They are now running again but Scotland TranServ intends to put in activation loops to improve the system.
It said that should mean vehicles travelling within the 30mph limit were no longer stopped.
The lights were set up on the A75 in Dumfries and Galloway to reduce the speed of drivers through the village.
'Initial calibration'
However, within days of their installation, drivers complained that they turned red even when they were travelling below the 30mph limit.
Scotland TranServ strategic road safety manager Vincent Tait said the lights had been having a "positive impact" on the speed of passing traffic.
However, he said they had been closely monitoring performance over the past six months and would now carry out further work.
"We are pleased that the system has had an impact on managing speed through the village, as it was designed to do," he said.
"As we outlined at the start, this is an innovative new process for our trunk roads and has required initial calibration.
"This exciting new phase will provide a more robust solution for local residents and drivers using the A75 through Springholm."
'Causing misery'
The latest work will require daytime single lane closures on the trunk road with temporary traffic lights from 11 to 13 June.
Galloway and West Dumfries MSP Finlay Carson said he would continue to monitor whether it improved the situation.
"Many constituents have been in touch over how the lights have been enforced, which too often punishes motorists sticking within the speed limit, whilst there is no penalty for those speeding and then ignoring the red lights," he said.
"The improvement works must put an end to this sort of practice and tackle those drivers who are speeding through Springholm and causing misery for local residents."