Castle Douglas Shetland pony foal theft investigated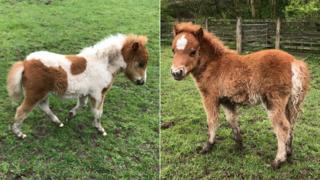 An investigation is continuing into the theft of two Shetland pony foals from the outskirts of Castle Douglas.
The animals - taken on Friday night - were subsequently found near Carlisle following an appeal on social media.
There had been fears the foals - only six and seven weeks old - might have died if they had not been reunited with their mothers.
Police said that although the animals had been found they were still trying to trace the thieves.
Anyone with information about the incident has been asked to contact them.