Pinneys of Scotland staff in Annan 'devastated' by closure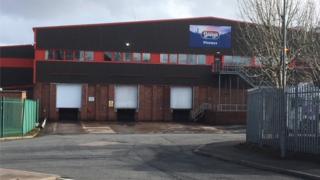 A union leader has said staff at the Pinneys of Scotland plant in Annan are "devastated" by the decision to confirm its closure.
Young's Seafood made the announcement on Thursday saying there was no "viable alternative" to shutting the factory.
Unite Scotland industrial officer Andy MacFarlane said the union was "extremely disappointed".
He said moves to transfer production to Grimsby had made the consultation a "sham" and a "hollow process".
Parent company Young's confirmed this week that the site would close by the end of the year with the loss of hundreds of jobs.
'Concrete proposals'
It said it would continue to meet staff for talks to discuss "ongoing items", including redeployment opportunities.
However, Mr MacFarlane said that although the closure confirmation had not been a surprise it was still a blow to staff.
"The workforce is devastated," he said.
"Whole families and communities will be affected by this decision.
"If there are any interested parties then we would encourage them to come forward immediately with concrete proposals."
'Devastating news'
The move has also been condemned by politicians from across the political spectrum.
Dumfries and Galloway Council Leader Elaine Murray said the council would continue to look to save jobs despite the "devastating news".
"We remain focused on finding a resolution to the situation and to find potential investors for the site which will, in turn, help rebuild the local economy," she said.
"Our immediate thoughts are with the families affected, we know that the Pinneys' employees remain a dedicated workforce and we will do all we can to find suitable employment for them with firms who will value their skills."
Deputy leader Rob Davidson described it as "sad news" but added the council would work with the Scottish government to try to keep as many jobs as possible.