Spitfire pilot Bobby Oxspring's family visit his plane in Dumfries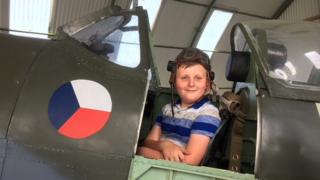 The descendants of a Battle of Britain pilot have seen and sat in, for the first time, a plane he once flew.
The Spitfire of Gp Capt Bobby Oxspring has been restored for the Dumfries and Galloway Aviation Museum.
They decided to try to trace his family and tracked down his granddaughter and great-grandchildren.
They became the first people to sit in the restored cockpit - following in the footsteps of their illustrious ancestor.
Robert Oxspring was born in Sheffield in 1919 and became a distinguished fighter pilot during World War Two.
He shot down several enemy aircraft - many of them during the Battle of Britain - and was decorated for his efforts.
He was the first man to fly the plane operationally which prompted the efforts to track down his family.
The plane itself was salvaged from the bottom of Loch Doon in Ayrshire in 1982 after a four-year search by divers.
It crashed during a training flight from Ayr in 1941, killing the Czech pilot.
Returning the bodywork to its former glory has taken decades of work and it is only now ready for the cockpit to be used.
Aviation museum director Peter Howieson was keen for the first people to do so to be relatives of Gp Cpt Oxspring who died in 1989.
"The original operational pilot was a very famous Spitfire pilot and his father before him also was very well documented," he said.
"I felt it was important for the visitors to know a bit about the family, so I tried to trace the family.
"I did manage to trace the family back to the Grantham area in Lincolnshire but after that I drew a blank."
However, when his son spotted a full size cut-out of Gp Capt Oxspring at an RAF dinner he was finally able to secure contact details and get the family up to the museum near Dumfries.
"I have looked forward to this day for a long, long time," said Mr Howieson.
"I think it makes the history of the plane so special.
"It doesn't do the museum any harm - but it was really for the family's benefit that I wanted to trace them."
Granddaughter Jane Patching and great-grandchildren Daniel and Olivia were delighted to come up from Lincolnshire to see the plane.
'Different emotions'
"We only became aware about it a couple of months ago - the museum contacted RAF Cranwell which is where my grandfather is buried, we have links with them because quite a lot of his memorabilia is there as well," said Ms Patching.
"Then RAF Cranwell contacted me to see if I would be happy for them to get in touch with me and it's all gone from there really."
The experience of seeing the plane and sitting in the cockpit more than lived up to their expectations.
"It was just incredible, so many different emotions, so many different feelings," she said.
"I was actually lost for words which doesn't happen a lot.
"Sitting where he actually sat himself, it really brings it to life for us."