Mansion is 'shell' after fire-raising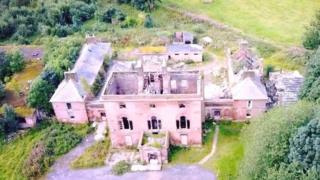 The owner of a mansion outside Dumfries says it is now a "shell" after being repeatedly targeted by fire-raisers.
Brothers Ian and Gary Foster bought Carnsalloch House in Kirkton in 2007 but development plans were delayed by a series of planning wrangles.
Hit by vandals, metal thieves and fire-raisers, it fell into disrepair.
Ian Foster said: "What we have now is a building which is a shell. It is no longer the Carnsalloch House that we purchased 10 years ago."
A suspicious fire at the mansion at the weekend is latest in a series of similar incidents at the property over the last few years.
Mr Foster, an architect based in China, said: "That arson attack now seems to have damaged the southern wing which was the only wing of the house that was still easy to refurbish.
"Now we basically have a shell of a property.
"When we bought this property, the house was still in a reasonably sound, solid condition that would have been relatively easy to refurbish. Now we are having to rebuild all of the interiors."
Mr Foster, 55, said that even security fences were not proving to be a deterrent to vandals, fire-raisers and metal thieves.
"When I was brought up and educated back in Northern Ireland, we were taught to respect other people's property," he said.
"Here I see absolutely no respect for other people's property. People will enter Carnsalloch House without the bat of an eyelid...to me that is just not acceptable.
"We have signs all over the place saying dangerous structure, trespassers will be prosecuted, but it is no deterrent for people who want to go in there.
"I don't mind if people want to go there and admire the architecture or the Scottish heritage, but it's people going there with the intent to damage that property and to steal metal or whatever it is from that property, I just find infuriating."
The earliest part of Carnsalloch House is thought to have been built in the 1750 for a chemist, Alexander Johnstone.
From the late 1960s, it was run by the Leonard Cheshire Foundation as a home for the disabled.
The brothers said they remained committed to developing the property, which has been on the Buildings at Risk Register since 2007, and judged to be at "high risk" since 2014.
Meanwhile police have issued a safety warning following the fire on Sunday.
A spokesman for the force said the building is in a dangerous condition and anyone entering the site was putting themselves at risk.