Kelso gallery commissions tiny artworks to mark royal wedding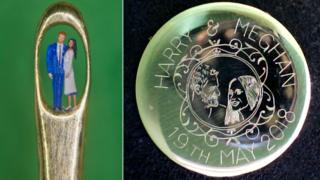 Tiny artworks are to be put on the head of a pin and in the eye of a needle to mark the royal wedding.
The creations have been commissioned by the Tony Huggins-Haig Gallery in Kelso in the Scottish Borders.
Graham Short and Dr Willard Wigan - both from Birmingham - will produce the micro engraving and sculpture.
Once completed they will then be sold at auction with the money going to the seven charities on Prince Harry and Meghan Markle's gift statement.
The gallery in south-east Scotland was also behind the micro-engravings of Jane Austen put on four £5 notes and put into circulation in 2016.
Owner Tony Huggins-Haig has made it his mission to take the discussion of art outside the gallery.
"Art can lift spirits moods, perception and even areas," he said.
"We have and always will strive to create amazing art both for our gallery and beyond our walls."
Both artists have a significant track record in producing this kind of work.
Mr Short also produced the Jane Austen artworks in 2016 and has put an engraving of the Queen on a pinhead.
"I am thrilled to be working with Willard on this microscopic project for the amazing THH Gallery," he said.
Dr Wigan created a microscopic William Shakespeare to mark the 400th anniversary of the Bard's death which went on show in Wolverhampton in 2016.
"I see this collaboration with the THH Gallery as if we were throwing a grain of sand into the sea, to create a tidal wave of good will to all," he said.
"My mum used to say - you can use many words to say nothing memorable or say very little and mean a great deal."