Ambitions spelled out for Borderlands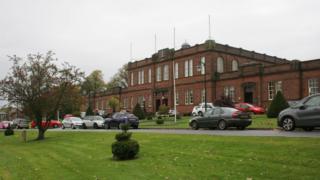 Senior UK and Scottish government ministers are to spell out the ambitions of a Borderlands growth deal.
Chancellor Philip Hammond announced support for the initiative in his budget last year.
It covers the areas of Dumfries and Galloway, Scottish Borders, Northumberland, Cumbria and Carlisle City councils.
Details of its progress will be outlined at a conference to be held in Dumfries next month.
Keynote speakers will include Secretary of State for Scotland David Mundell and Scottish Economy Secretary Keith Brown.
Mr Mundell said the growth deal had the potential to "transform the economy" of the whole area.
"It aims to build on the successes of city and growth deals across Scotland that are already delivering benefits for people and businesses," he said.
"I have been impressed with proposals put forward by partners and look forward to continuing fruitful discussions as we work towards a deal."
Mr Brown said his government had also made clear its commitment to a deal that would "drive inclusive growth across the area".
"Indeed, we want to see every part of Scotland benefit from this sort of focused, transformational investment," he said.
"We want to ensure that the Borderlands deal complements the Scottish government's commitment to establishing a new enterprise agency for the south of Scotland, and have been running a series of events across the south of Scotland to hear what the people who live and work in the area want."
'Influence proposals'
Carlisle MP John Stevenson - who was recently confirmed as the Borderlands Champion for England - said it was a "unique opportunity" for the area.
"The work which the five councils have already done is very encouraging," he said.
"I am delighted, as the Prime Minister's Champion for the Borderlands, to support the conference.
"It will offer participants a chance to hear what work has been done as well as have the opportunity to influence the proposals."
The conference will take place at the Easterbrook Hall on 18 June.
A Borderlands Partnership spokesperson said it was a "fantastic opportunity" to hear about the progress made so far and the potential projects that could be supported.