First away tie for Scotland amputee team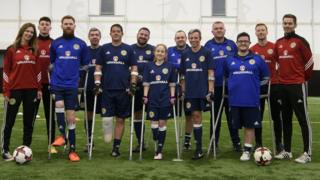 Scotland's national amputee football team is heading to Italy for its first official international away match.
The two sides will meet on Saturday in the village of Grezzana near Verona.
Brian Murray, from Annan, has the honour of captaining a team which has received training tips from Northern Ireland boss Michael O'Neill.
The skipper said it was the "stuff dreams are made of" to lead his country in the international clash against such a "formidable opponent".
The Scotland squad is made up of nine players with a lower or upper limb amputation who all play with either the Partick Thistle or Dundee United amputee teams.
They are:
Captain: Brian Murray, Annan
Vice-captain: Leigh Gregory, Workington
Gerald Mulheron, Glasgow
Michael Lennon, East Kilbride
Stuart Mitchell, Glenrothes
Robert Wilson, Dundee
Scott Young, Glasgow
Iain Matthew, Glenrothes
Goalkeeper: Stephen Gregson, Cambuslang
The team was put together by Amputee Football Association Scotland (AFAS), the charity set up in October 2016 to promote and develop the sport.
Mr Murray - who lost his leg at the age of nine to cancer - began playing two years ago and said it had boosted his confidence.
He trains fortnightly with Partick Thistle and has played a key role in advocating the sport.
"Amputee football has not only provided me with newfound confidence and fitness, but it has given me a new set of friends and something to be proud of," he said.
"The Italians will be a formidable opponent but we've been training hard and will give everything we have."
Northern Ireland manager and AFAS patron Michael O'Neill visited the team as a guest coach earlier this month.
He said: "It's been great to be able to offer a bit of support to the team ahead of their clash with Italy this month.
"I wanted to support a charity close to home and because I stay in Edinburgh, amputee football was the perfect fit.
"I'm always blown away by the standard of these players, many of whom have dealt with a great deal of trauma, and I wish them all the best in Italy."
AFAS founder Ashley Reid said the sport had come a long way.
'Taken aback'
"From running a pilot project with a handful of players to being able to present a Scotland squad for an international tournament signals the appetite for this sport in Scotland," she said.
"When the players are on the pitch, disabilities are secondary.
"It's simply about individuals coming together to play competitive football at a high level and all those who watch the sport are taken aback by the speed and agility of the players.
"Representing your country is something many can only dream about and the honour is not lost on this team."