Wigtown: The 'tumbleweed' town transformed by books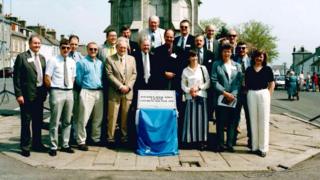 Celebrations are taking place to mark the 20th anniversary of Wigtown being declared Scotland's national book town.
The move has been credited with transforming its economy after years of decline.
The closure of a large creamery and a distillery had seen the community's fortunes plummet with the loss of more than 200 jobs.
Shops and businesses closed, people left and, at one time, 83 buildings stood empty.
Local resident Sandra McDowall recalled: "A lot of our young folk had left to get employment elsewhere and there was a depressed feeling in the town.
"There were premises for sale everywhere and one of the newspapers at the time said you could see the tumbleweed blowing down the street."
In 1998, Sandra was on the community council which heard about a "competition" run by Strathclyde University to find somewhere in Scotland suitable to regenerate as the country's official book town.
A similar thing had happened in Hay-On-Wye in Wales and other towns across Europe so Wigtown organised a bid and, against stiff competition from five other towns, was declared the winner.
Up to then, Wigtown had only one bookshop, albeit with allegedly the largest collection of second hand books in Scotland.
Since 2001, it has been has been owned by local man Shaun Bythell who recalled seeing it as a teenager when it had newly opened and predicting its closure within a year.
He is one of a generation that would have been lost to Wigtown but for its book-based rebirth.
Another is Wigtownshire native Joyce Cochrane who, with husband Ian, gave up a safe job in Edinburgh to take on a former bank building in Wigtown and the precarious business of selling books in what she had regarded "a ghost town".
"I do remember opening the door and there was nothing but rawlplugs," she said. "It was terrifying, but really, really exciting."
She said that last year was their best yet with people at Easter queuing for the shop to open.
Analysis: Willie Johnston, BBC Scotland
In the 1990s I reported on the devastating creamery closures at Wigtown and nearby Sorbie and the decline of Bladnoch distillery (now happily in new ownership and with a bright future).
I listened to the despair of families who saw no future in Galloway and were forced to follow the work to other parts of the UK.
I witnessed the consequential decay of the economy and built environment, I saw the tumbleweed.
Then came the prospect of Wigtown becoming Scotland's book town and I was there when champagne corks popped in celebration of it winning the Strathclyde University contest.
However, did I see beyond the fizz and really believe that the town's salvation lay in books? I confess I did not, and I was not alone.
Today I am delighted to have been proved wrong. The town centre is clean and prosperous and Wigtown during its 10-day book festival each September is a joy to visit.
The town will celebrate modestly with a tea party. I'd be happy to toast its success with something stronger - to wash down my humble pie.
Other people who came to Wigtown had no previous connections.
They included Richard Van Der Voort who specialises in science fiction and fantasy books.
He decided to leave London because the city air was affecting his asthma. A friend recommended Wigtown and he's been there for 16 years, currently chairing the town's Booksellers' Association.
"We have 13 retail bookshops and one which is mail-order only," he said.
"Between us we probably have half a million books for sale."
Those shops have spawned a hugely successful annual book festival which generates an estimated three million pounds for the regional economy.
There is enough year round trade to have made it worthwhile for other businesses to re-populate the Main Street, including a hotel, cafes and other types of retailer.
Sandra McDowall remains involved as chair of the book festival and has witnessed a transformation many did not believe likely.
"It was difficult," she admitted.
"People didn't think they were real jobs because they were in bookshops and it wasn't really involving local people.
"But over the years they have come to see that most small towns have suffered because of our changing shopping habits and in Wigtown we have bucked that trend.
"We still have people moving in, we still have properties changing hands and it really has made the town what it is today.
"There is a vibrancy now that just wasn't there before."