Enterprise agency plans discussed at economic forum in Dumfries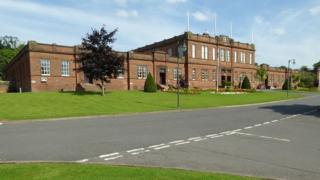 First Minister Nicola Sturgeon is visiting Dumfries to discuss ways of "driving forward" the rural economy.
The 20th National Economic Forum is being held at the Easterbrook Hall on the town's Crichton campus.
The creation of a new enterprise agency for the south of Scotland is among the measures set to be discussed.
Ms Sturgeon said it was important to ensure the consequences of Brexit for rural communities were identified and addressed.
She said: "By investing in innovation and infrastructure and providing the right support for business we can help rural Scotland to build on its strengths, overcome challenges such as Brexit and seize new opportunities.
"The importance of recognising rural needs is also why we are establishing a new south of Scotland development agency. And ahead of it being establishing, we have set up the South of Scotland Economic Partnership, backed by £10m of additional funding.
"All of these steps will support the rural economy, and in turn drive Scotland forward."
The first minister also announced that the three-day Scottish Rural Parliament would take place in Stranraer from 14 to 16 November.
"It is important people have a say in decisions affecting them, and the rural parliament is an important part of that process, allowing rural communities from across Scotland to discuss and agree priority areas for development and local democracy," she said.
"The rural parliament coming to Stranraer is a fantastic opportunity for the area to showcase its strengths and share ideas and good practice across Scotland's communities."
'Good opportunity'
That news was welcomed by south of Scotland Labour MSP Colin Smyth.
"Too often when people talk about rural Scotland they look north and the south of Scotland is forgotten," he said.
"This will be the first time the rural parliament will have met in the south and the decision to come to Stranraer will be a good opportunity to highlight the area to delegates from outwith the region and discuss the huge challenges we face.
"Well done to the local liaison group who put forward the successful bid to bring the event in Stranraer."
Dumfriesshire Conservative MSP Oliver Mundell said the new enterprise agency was welcome but added there were other issues to address.
"If the first minister is serious about unlocking our region's economic potential then she should take the threat of a damaging second independence referendum off the table," he said.
"There is no doubt this uncertainty continues to linger like a dark cloud over our region."