'Ditched microlight' search off the Borders coast finds balloon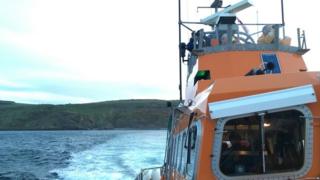 A search for a microlight aircraft which had apparently ditched into the sea was called off after lifeboats found a large balloon.
Both RNLI vessels in Eyemouth were called out by the coastguard at about 20:25 on Thursday.
They arrived quickly on the scene - about one mile north of the Scottish border - and began a search.
However, instead of a microlight they found a four-foot (1.2m) by two-foot (60cm) pink helium balloon.
The call was received from a concerned member of the public in Burnmouth who thought he had spotted an aircraft heading into the water.
As well as the lifeboats, the coastguard rescue teams in Berwick and Eyemouth were called out.
'Good intent'
"It was a single sighting, there were no other reports of it," said a coastguard spokeswoman.
"It looks like they searched the area quite thoroughly."
After about an hour of searching, the large balloon which it is believed may have sparked the hunt was found.
Checks with radar and with local microlight flyers confirmed it was the most likely explanation of the incident.
"We have put it down as a false alarm with good intent," said the coastguard spokeswoman.
"We would rather make the search than not make the search.
"If you are releasing a balloon this large off the coast it might be worth just letting the coastguard know."