Bottle thrown by driver smashes car window near Castle Douglas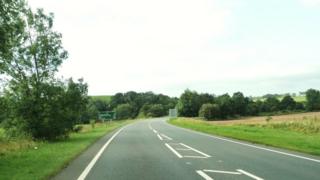 A car had a window smashed by a bottle thrown from a passing vehicle in a "completely reckless act" on the A75 near Castle Douglas.
The incident happened near Ram Hill at about 17:20 on Monday.
The bottle struck a red Audi 3 which was travelling east and smashed the window next to the driver.
Police said it could have caused a serious accident and want to trace the occupants of a black jeep-style Kia travelling in the opposite direction.
The driver of the car with the smashed window was not injured but said to be "shocked" by the incident.
Anyone with information has been asked to contact the police.